Tell Me More - Teacher's Notes
Chapter 9: "How do I get to Hahoe?"
Teaching aims:

Input:

Giving directions
Directions language

Recycle:

"How ... ?" questions
"Have you ever ... ?"
"Wh" questions

Free Talking:

Comments:

This chapter is once more concerned with "survival" in an English-speaking community. When abroad (or when talking to English-speaking foreigners in Korea) students will need to be able to give and receive directions, and to do this efficiently, since a minor slip in giving or listening to directions can have major results (the desired location will not be found!). The aim here is therefore to present directions simply, clearly, and unambiguously.
Students should be progressing noticeably by now, and should also be familiar with the various types of activities which appear in each chapter. Teachers are therefore encouraged to allow them not only to get started by themselves in each lesson, but also to choose the activities and the rate at which they work through them.
Activities: 1) "How do I get to Hahoe?" Title Page Input
Page 129

The title page presents input in terms of "Clothes" vocabulary, as well as useful phrases for use in "Shopping" role-plays.
2) "Go straight ahead" Pairs (10 minutes)
Page 130

The function of "Giving Directions" is often characterized by lack of clarity and confusion, so the aim here is to present some simple guidelines for students. There are many ways of giving instructions, but the ones offered here will always be effective and unambiguous.
The first step is to direct one's partner through a maze, simply using "Go straight ahead", "Turn left" and "Turn right". Students night need to be reminded that "Turn right" does not mean "Turn right and go straight ahead"!
3) "You can't miss it" Groups (15 minutes)
Page 131

The second step (<!a href="../../tmms/09/images/131.gif">next page of the students' book) is to direct members of the group to one's home, using "Go straight ahead", "Turn left" and "Turn right", as before, but with the addition of "Take the first left/right", "It's on your left/right" and "You can't miss it".
Students choose one of the homes on the maze, then Student A directs the others to his/her home from "Main Road". Student B directs the others to his/her home from Student A's home, etc.
4) "It's next to the bank" Groups (20 minutes)
Pages 132 & 133

Students now perform another pair-work activity, directing each other around a City Centre. As they fill in the names of the buildings, there should be ample opportunity to practice prepositions of location.
5) "Where is it?" Pairs (20 minutes)
Pages 134 & 135


A crossword-format encourages students to explain and internalize not only prepositions of location, but also the names of different types of shops and services that one might find in a town or city. Explanations should be in English if possible, but teachers do not need to be too strict on this. Positive encouragement and promotion of self-confidence will be more effective.
6) "How do I get to ... ?" Pairs (15 minutes)
Pages 136 & 137

Students now ask each other how to get to and from places on the map of Seoul City Centre.

As a follow-up, students can think of making an informative map of their own town, including all the "best" sites (hotels. information agencies, travel agents, restaurants) for visitors. They can then make role plays in which they show foreigners around.
7) "It's the "How?" game" Groups (15 minutes)
Pages 138 & 139


This activity appears in Chapter 4 as "It's the "Wh ... ?" game". Students will therefore be familiar with it game. The questions are a bit more difficult now however, dealing with "How much ... ?", "How many ... ?", "How often ... ?", "How long ... ?", "How old ... ?", etc.
8) Interview "Have you ever ... ?" Pairs (25 minutes)
Pages 140 & 141


This activity was performed in<!a href="../../tmms/06/images/90.gif">Chapter 6, and it appears here once more, with different questions. Students therefore know what to do, and can proceed at once. The vocabulary is more difficult this time, so Part 1 is another "matching" exercise, meant to clear up problems about what terms "actually mean".
As before, students should be encouraged to follow-up questions, and to answer fully.
8) Interview "Have you ever ... ?" Answer key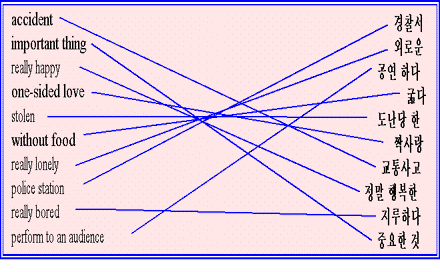 9) "Getting to my house" homework
Page 142

This activity (as with other suggested homework) gives students an opportunity to consolidate the content of the chapter by writing a short composition based on that content. In this case the students are asked to draw a map of their home and its immediate vicinity, and to give directions to their house from a nearby landmark.
In order to assess such activities, teachers might want to photocopy the relevant pages of the students' books.
10) Free Talking: "Seasons" Groups (15 minutes)
Page 143

Free Talking this time has a general theme of "Seasons/Weather", reviewing "Wh"-questions and likes/dislikes in relation to these topics.
Students and teachers might also like to look at the two Free Talking activities in the<!a href="../../tmms/extra/">"Extra Activities" section.
11) Culture page 9 Pairs (15 minutes)

Next Chapter of the Teacher's Notes
Links to the Students's Book
Contents | 1 | Skills | 2 | 3 | 4 | 5 | 6 | 7 | 8 | 9 | 10 | 11 | 12 | Extra
---
Tell Me More - Task-based Conversation Activities
By Andrew Finch and Hyun Tae-duck
http://iteslj.org/t/tmm/